In vitro diagnostics (IVD): Documentation and approval
In vitro diagnostics (IVD) are medical devices that are regulated in their own regulation (In Vitro Diagnostic Medical Devices Regulation (EU) 2017/746 (IVDR)) due to their special nature:The definition of in-vitro diagnostics is precisely laid down in the IVDR, Art. 2. (2):
"In vitro diagnostic medical device means a medical device that is a
reagent, reagent product, calibrator, control material, kit, instrument, apparatus, device, software, or system
, individually or in combination, intended by the manufacturer to be used for the in vitro examination of specimens, including blood and tissue donations, derived from the human body, exclusively or principally to provide information on one or more of the following..."Safe and reliable products should result from the efficient interaction of the various
IVD Qualitymanagement
. Safety and performance of the products must be monitored and confirmed
throughout the entire product life cycle
. In the
technical documentation
, manufacturers provide proof to third parties that these processes are carried out correctly and in conformity with the respective target country.
We help you meet your regulatory requirements at all levels
and at any point in the product lifecycle.
Learn more and book a free appointment with us.
5 years of the In Vitro Diagnostics Regulation (IVDR): Whats valid ?
There are 5 years between the entry into effect of the IVDR 2017 and the start of validity in 2022. The first IVDR certificates have been issued, but this is not yet the case for the most of the in vitro diagnostic devices!There was and still need a lot to do. At the beginning of 2022, the
ivdr transition timeline
for most product classes were extended, but the start date of the IVDR was not postponed. Since 26.05.2022, some requirements of the IVDR must already be met for all product classes, these include:
Post-market surveillance,
market surveillance (by the relevant authorities),
vigilance and
Registration of economic operators and from products.
IVDs may continue to be placed on the market or put into service if they continue to comply with Directive 98/79/EC as of the date of application of the IVD Regulation and there are no significant changes in the design and intended purpose of these devices. As of May 2022, IVDD certificates may no longer be issued.
There is no extended deadline for class A non-sterile devices! These should be IVDR compliant since 26.05.2022 (self-declared).
There is no ivdr transition timeline for new developments; here it's necessary to fulfill all requirements of the IVDR!
New ivdr transition timeline for In-vitro-Diagnostics
For more than 80% of in vitro diagnostic devices under IVDD, manufacturers could previously declare conformity themselves, without the involvement of a Notified Body. Under the new
classification
rules of the IVD Regulation, approximately 80% of devices fall into Class B, C or D and therefore must be certified by a Notified Bodies.The shortage of Notified Bodies (there are very few Notified Bodies so far, which additionally have a higher workload) has not been solved yet. To what extent the new transition periods will be sufficient to solve both this backlog and your resource shortage is still questionable.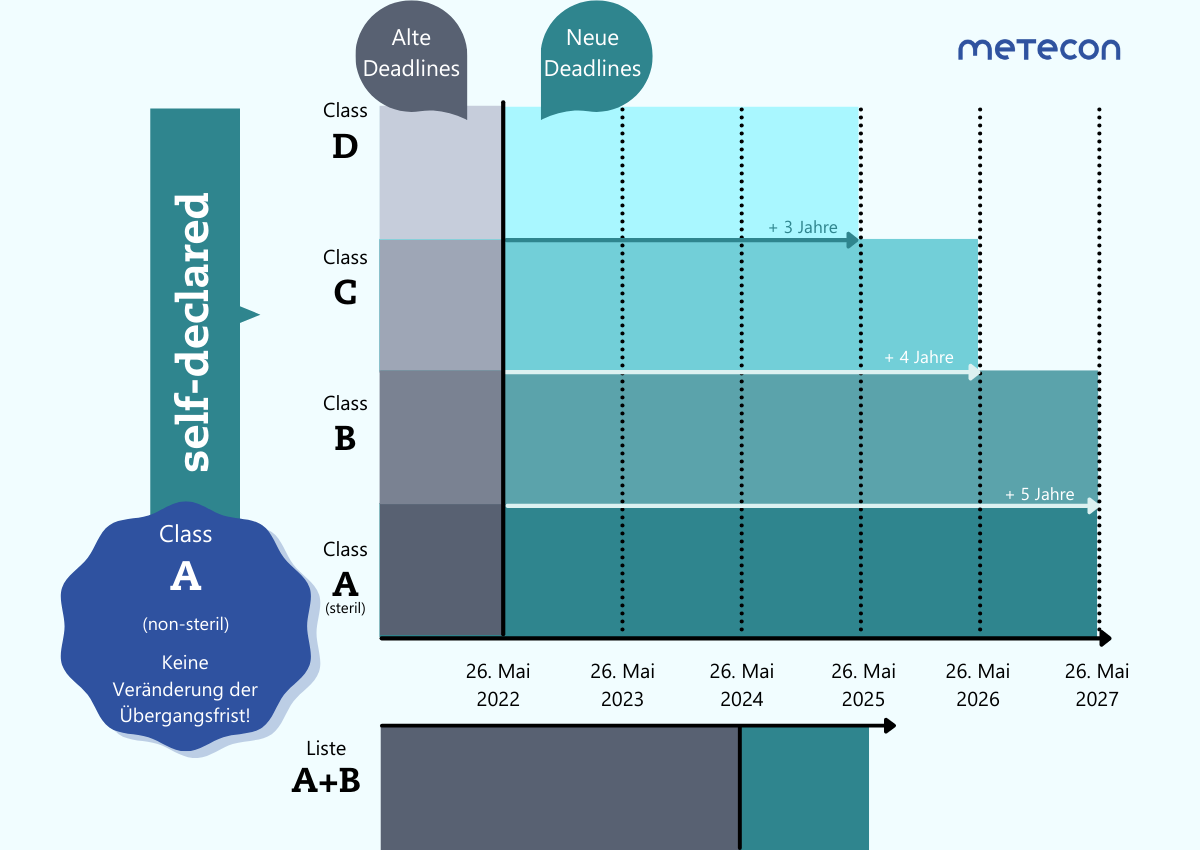 Technical documentation for in vitro diagnostics
The
technical documentation
must be revised and adapted as part of the IVDR for all existing products in the entire context. Risk management results influence the
performance evaluation
and
usability
of your IVD and vice versa. The purpose, requirements, specifications,
verification/validation
and labeling must be coordinated. Traceability is therefore required from the product idea to the finished product.
Post- market surveillance (PMS)
requirements also need to be implemented. Depending on the risk class, different reports are required, PMS reports for class A & B or the Periodic Safety Update Report (PSUR) for class C & D. Not to forget: also the summary report on safety and performance ( Summary of Safety and Performance, SSP) for Class C & D products is required.Information on the content of the required reports, which is always preceded by a plan, can be found in the IVDR and in specific guidelines from the MDCG (Medical Device Coordination Group).
How much time does IVDR adaptation cost: a realistic calculation with example?
As per our discussion with manufacturers, we know that 200 working hours each are often calculated for the revision of a product file. So far, so good: That makes about
Total
5 weeks of working time for a full-time employee. Why "Total" working time? Because this calculation would require the following:
The full-time employee has been trained;
a project plan for the exact procedure should be ready;
the full-time employee knows exactly how to implement the requirements;
there are no other tasks for your regulatory affairs employees within these 5 weeks;;
Cooperation between departments is smooth and without incident.
Is this scenario actually realistic? Our experience shows that this rarely works. In your planning, you should also consider that your quality management processes will also have to be revised and new templates should be created.
Need support? We look forward to contributing to your team's success.
Here you can reach us.
We support you with these Services
Creation and maintenance of the technical documentation:
Checking the technical documentation of in-vitro diagnostics already on the market - "legacy devices" and "old devices" against the regulatory requirements, creating the content of the technical documentation (EU and international) - compliant with standards, laws, and regulations.
Creation of the content of the technical documentation (EU and international) - in compliance with standards and laws for existing products and also in the context of new developments,
Communication with notified bodies, authorities and test laboratories for analytical and/or clinical studies,
Review/adjustment of the implementation of IVDR requirements based on the new MDCG guidelines,
We also support you in the area of clinical affairs in the approval process for your clinical studies: e.g. B. Applications to the ethics committee and the higher federal authority (BOB)..
Revision and adjustment of the Quality management system::
analysis of the need for change,,
adjustment of processes,
Assistance with audits .
Other services:
Software development process according to IEC 62304,
performance evaluation for software products,
Support for the documentation and the QMS for in-house in-vitro diagnostics.
We work together with various laboratories, we are happy to support you in your search for a suitable laboratory or suppliers of human samples, such as
e.g. B. sera or plasmas.If you need any external support for analytical and clinical data collection:
Please contact us!
Your Benefits when working with us
We are your reliable partner for adapting your QM processes and developing and revising the technical documentation of your IVD.
You will receive all documents for your technical documentation ready for signature on your templates for approval (international) or product certification (EU). We would also be happy to provide you with templates and advise you on choosing the right format for your technical documentation (IMDRF, STED).



Our 20 years of experience in the documentation, the certification process and also in the verification and validation of IVDs ensure that we achieve your goals quickly and efficiently.
Our GAP analyzes provide recommendations for action at all levels of your regulatory activities (QM system, technical documentation, product portfolio).
Everything planned already?
Especially the new
classification rules
and the resulting increase in regulation through the notified body confront manufacturers with tremendous challenges. Considering the defined timelines, you need a solid and elaborate plan how to revise the technical documentation.
Contact us
Fit for the future with the Metecon Academy
Each of our workshops and in-house courses provides sustainable knowledge and know-how in the areas of technical documentation, regulatory affairs and QM and is always exactly tailored to your needs.
Our customers use our workshops with our experts:
to keep themselves and their team up to date with the latest knowledge and/or to go into intensive exchange with us and gain clarity in the face of a current challenge about a specific description of objectives and the project strategy.Through the operation of our own trainee academy, our comprehensive training material is always up to date.
Let us find out together what your team needs!
Workshop topics:
Implementation of IVDR for technical documentation and QM
Risk management
Usability
Biological safety
Clinical affairs
Software
Approval
Quality management
Contact us